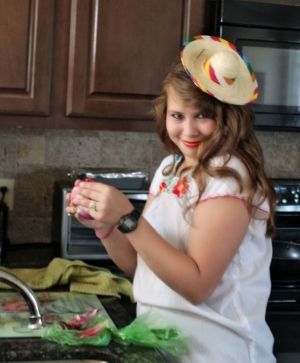 Meet one of my bestest Aggie friends of all times, Senorita Moriah. This spicy tamale of a woman has the biggest heart for loving others and cooking amazingly tasty dishes. To this day, she's one of the only college girls I met who has the patience to slave over a stove for hours during study breaks. This type of dedication scored her many points in my book as a rocking roommate.
Freshman year, Moriah introduced me to her signature "Lazy White Girl Enchilada" dish during one of our Business Math Mexican Mondays with MO homework nights. Needless to say, we scraped our plates clean with happily full bellies and abandoned our online homework to embrace our food comas. No shame. My life has been changed ever since that October night in 2010.
The heartbeat of this dish is simplicity, yummyness and fiesta flavored cooking. You just need to gather your ingredients, turn up that stove to medium high, pour yourself a lil sangria and invite over some friends to help you inhale your meal.
Ingredients (serves 4, we cooked for 10 so we had bigger sized everything):
- 1 large can enchilada sauce or 2 smaller ones
- 1 small can of corn
- 1 can of olives, we tend to love them, so feel free to purchase 2
- 1 small package corn tortillas
- 1/2 red onion
- 1 package Mexican grated cheese, or whatever type floats your boat
- Whatever type of meat you want, cooked separately then added
- Optional: ranch dressing, Julio's chips and mild salsa
We always cook up a side of refried beans (with cheese) and 1 box Zatarains dirty rice to munch on alongside. So whip up whatever yummyness you want to accompany your goodies.
Super simple cooking directions:
1. Chop up your red onion and toss that bad boy onto the stove in a skillet with a splash of olive oil. (If you are planning to brown beef or a meat, you can do that with the onions and drain the nasty juices.)
-Don't forget to warm the beans or cook the rice on a side burner if you are serving those.
2. Cut up corn tortillas into bit sized strips and let soften a bit. Then, pour in your enchilada sauce and bring to light boil for 8-10 minutes or until warmed.
3. Turn stove off or on cool, toss in corn and olives. Cover as generously as you desire with mounds of cheese.
4. Serve onto plates and cover with ranch or salsa, depending on your preferred method of flavoring.
Forgot to photo until we loaded up most the plates, but let me just say this meal was a hit as always!!