Keeping with my constant blog experimentation including but not limited to, "all-the-crazy-ideas-that-spontaneously-pop-into-my-mind", I've persistently annoyed one of my bestest friends to join me as a co-writer in a series of life updates here on Mismatched Simplicity. Adapting a style from the talented duo at
Vlog Brothers
, we thought it would be cool to send letters over interwebs from our lives 8 hours away. Vlog Brothers, Hank and John Green(yes, as in the brilliantly creative author), create weekly video updates to each other on life/randomness/nerdfighters/etc.
If you're new to the blog, this precious bundle of blonde locks and poetry slamming awesomness might be new to you. We are practically obsessed with each other, so she tends to be sprinkled throughout my blog archives. In fact, she was the source of encouragement and inspiration that got me blogging in the first place. Without further ado,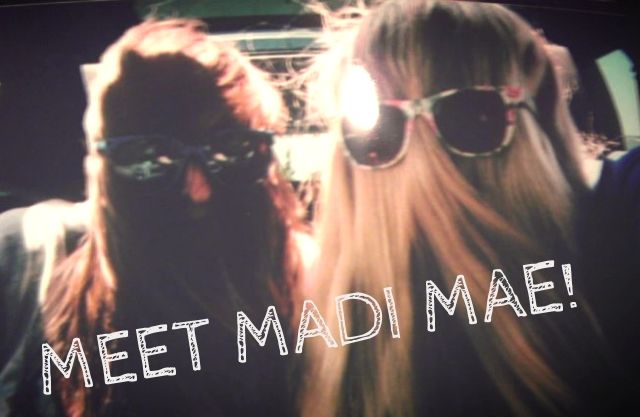 She is the cooler, crazier, more emotionally expressive counterpart of myself. We somewhat randomly roomed together our freshman year of college and have literally been inseparable ever since. Madi has one of those rare personalities that demands presence when she walks into any room. Rooming with her for years, I am always amazed at how she sees the world and communicates her perspectives with relatable analogies and metaphors. I am so thankful for this tot and am stoked to have our relationship grow in yet another great, but unexpected way through the web medium.
---------------------------------------------------------------------------------------------------------
What's shaking bacon aka MadiMae (which reminds me that this morning Bopants grilled some bacon to pair with our Kerby Lane pumpkin pancakes [let's just go to Austin now for another midnight roadtrip!!] and I wanted a nibble of them them soooooooo bad. One of those moments the whole vegetarian thing loses major cool points with me),
With the chilly weather taking over our West Texas town, I find myself bundling up on the couch with cups of coffee/tea/hot chocolate far more than usual. Which, let's be honest, has to be quite alot assuming I tend to already spend an embarrassing amount of time parked on these cushions. With all this cold weather, I'm getting pet fever!! Earlier last week, I saw a post about an abandoned miniature dachshund named Pickles (pictured below). However, assuming we have no yard or food or money or real house to adopt this cutie - we had to break all our hearts and let him go to another loving family.
Maybe it's the fall weather or the desire to have a warm animal body snuggling with me at bedtime, but I'm treading in dangerous territory. Which reminded me about that impulsive time we smuggled in sea monkeys as an addition our dorm room. One of my favorite hilarious memories from our early days of friendship. Too bad those guys didn't turn out to be half as cool as this video made them out to be. Such a shame. Thankfully, we are keeping our kittykat/cute puppy/sea monkey fever under wraps until we are more suitable pet owners. So when I call you next week complaining that husband refused to let me keep the black Halloween kitten I found, remind me of our tragedy of flushing the sea monkeys.
Love you to the moon and back in a Mugwalls Pumpkin Vanilla Chai/Grub Burger spiked milkshake serving rocketship,
Annie