Being a fan of the written world and snail mail, one of my new blog ideas is to incorporate letter style posts and guest collaborations a bit more often. Today we are featuring words of wisdom from fellow world travelers. Cheers!
G'day freshman year of college Cameron,
I know being away from family and friends is very difficult right now, but things getter better. If you stick it out at UT and make it to spring semester of your junior year, you will get to spend five months abroad in Sydney, Australia! This once in a lifetime opportunity will open many doors and change your perspective on life. Most importantly, you will gain life-long friendships from all over the United States and all over the world. But before you get exited I want to impart one word of advice to prepare you for your journey Down Under: Be open-minded and willing to get out of your comfort zone. If you do, you will Scuba dive in The Great Barrier Reef, hold Koalas, see a show at the Sydney Opera House, hike beautiful mountains in New Zealand, and so much more. When you return, you will think of Australia at least once a day and think about the memories and friendships that will last forever.

So go ahead and get started on that application. It will be the best decision you will ever make.
Your mate,
Cameron

To whom it may concern,
If you're going abroad, I am supremely envious. Take this as a formal offer for me to accompany you and I'll happily guide you and provide you firsthand advice.
On the off chance I'm not able to go with you, here's my two cents when it comes to going to a new country. I ask, beg, implore you to keep an open mind. Say yes to things. Try everything at least once. Take loads of pictures. (and make sure you're in some of them!) Eat local. Really listen to what's going on around you. Try to get a little background information for historical places you visit. Carry extra tissues in your bag. I could go on for days, but I'll leave you with that.
Adventure awaits!
Corina

Dear friend,
I can't even begin to put into words how much this experience has changed me. Before I left for my semester abroad, I had so many fears. I was scared I would miss out on events going on back home- birthdays, holidays, school activities, and traditions. I'm now certain I would leave it behind again just to experience the joy of travel once more. The thrill of discovering and living in a culture completely different from my own is what my heart now longs for.
The good news, and something I had to travel all the way around the world to discover, is that God calls us to a new adventure every day. When you walk in the freedom and truth He has provided, you don't have to travel around the world to experience newness. Do something you've never done in your own city and get to know the people around you. Invest your time in the people you love. Serve others with kindness and remember to be thankful for the things you have.
My advice to you dear friend is to go abroad. Take a bike ride through Paris, stand at the edge of the Cliffs of Moher, explore a Istanbul mosque, and take a dip in the Mediterranean. But while you're waiting on the trip of a lifetime, take full advantage of the adventure/people/newness in front of you.
Warm wishes and happy adventures,
Madison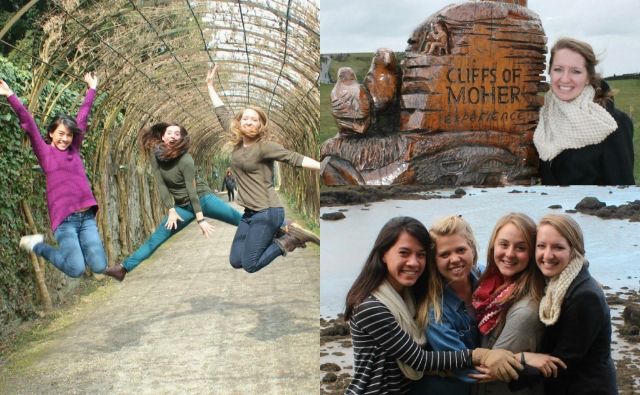 To my sweet Spanish friend across the Atlantic Ocean,
I truly never thought I'd meet you. You're the friend I always knew was out there, the one who grew up in a totally different culture and speaks a different language. You're the friend I always hoped I'd meet but never thought I actually would. I'm so glad we're finally friends. Studying abroad in Spain was one of the best choices I've ever made. It was incredible to live in a Spanish home, learn how to salsa dance, meet your friends and family and speak your native language. I always knew I wanted to meet you, wanted to see what your life was like and be your friend. And actually doing that was a thousand times better than I even imagined. So thanks for being my friend, for introducing me to Spain from a local's perspective, and for being part of an experience I'll never forget.
Much love from that one friend across the ocean,
Lauren
Dear Africa,
You are such a beautiful, wonderful continent. You sometimes get a bad rep for all of the negative things we hear about on the news, but I was so blessed to be able to see all of the amazing things that people often fail to mention. As a girl born and raised in Texas, I thought nothing could beat our southern hospitality but Africans did. I have never before met people who were so happy, friendly, or willing to help a poor American who was lost on the bus for the 3rd time that week. I knew going in that I would have the opportunity to go on a safari and see lots of wild animals. What I didn't know is how cool it would be to drive down the street and see a giraffe and her baby walking into the distance. Having the opportunity to ride an elephant was the highlight of my trip. They truly are gentle giants. Nobody told me that Cape Town would be the more beautiful than anything I could have imagined with its tall mountains, gorgeous beaches, and Dutch architecture.
From Botswana, to Zimbabwe, to Zambia, and finally to the very tip of South Africa, I was in a constant state of wonder. Thank you for showing me all that you have to offer and giving me the most memorable experience of my life. You made me realize that happiness doesn't stem from constant internet access, 250 TV channels, hot running water, or even electricity! It comes from the ability to enjoy the simple things in life. I am eternally grateful for all that you have taught me.
Forever Yours,
Abigail