These past few weeks, behind every corner I've been bombarded with triggers from memory lane. Some beautiful. Some awful. Some hysterical. Some sombering. Each of us tends to reflect on our personal history through either overly optimistic or unnecessarily jaded glasses... or maybe that's just me... either way, most the time, I see my past through rose tinted panes - forgetting the bitter, focusing on only the sweet. I'm working on finding the balance between the two. A mixture of fall weather, old friend reunions, forgotten books notes and calendar reminders have slowed me down to hammer out a more reflective post. Goodness knows, I'm going to forget all of these mini-lessons and important memories in only a mere matter of weeks. So bear with me as we take a stroll through the memories.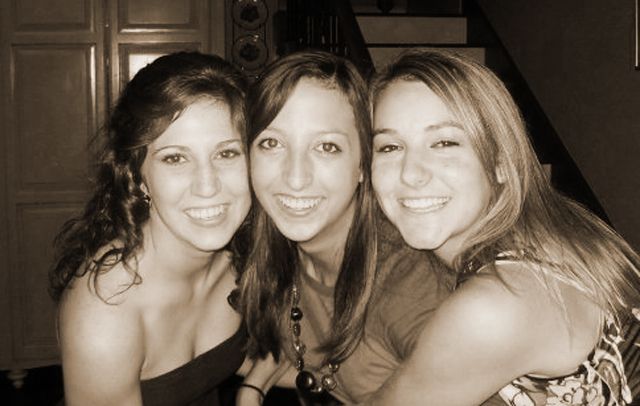 A couple weeks ago, I was reunited with these two lovelies for the first time in months. We've been best friends and fellow trouble makers since 7th grade. Our friendship has adapted and gone through many shifts in these past 10 years. Gosh. That's weird. Their faces are interwoven in memories including my happiest vacations, major life changes, biggest fights, craziest boy drama and everything in between. Jocie Anne, BeeBop and Andy have together weathered it all. I'll never take for granted that we have walked through life and stayed in contact through all these years. Words can't describe how grateful I am for these beauties who have put up with me for almost an entire decade.
John Mayer has an unexplainable long lasting love in my heart that can't be shaken. Confession: I have 85 of his songs in iTunes. Fangirl through and through. I belted majority of his lyrics throughout my middle and high school years. Literally, just about every song from any of his albums pre-Born&Raised holds a deep connection to some deep-rooted memory. During the fall, my ears always crave extra John. Might be because that's when I saw him in concert a few Octobers past or got ahold of his first CD in fall of 2001. The other day when I was driving home from work, I just pulled over and let the music bring up memories I hadn't let up in ages.
As I mentioned
in this post
that earlier this week, I stumbled upon the Twilight movie. I camped out for hours my Junior year of high school to see the midnight premiere and was so frustrated with the film that I went home after and stayed up all night re-reading the novel to remember the characters in a better light. Every fall since, I've re-read the series.Tuesday of this week, I picked them back up and blew through the series again finishing the 4th earlier today. I'm an avid book note writer, so it was interesting to read all my notes and doodles from the past 7 years. Strange to see how much I have and haven't changed in comparison to that original reader.
In conclusion, some of our super artsy friends created this short film last January. They did a rockin job. So proud of everyone and such a tribute to Jordan. Enjoy! Hope this season, you find some time to pause and allow old memories to surface and remind you of the good, bad, ugly and breathtaking.