Another juicy post from my bfffffffffl Madi Mae, who has agreed to partner up with me on a interweb correspondence while we live apart in the great state of Texas. You can see our previous letters to each other
here
&
here
. I miss her loads for many reasons, but one is her creative humor. See exhibit A:
Dearest D[apostrophe]anny,
This letter is dedicated to the British 80s post punk band The Smiths. I have possessed an affinity for The Smiths for some time now, but ssshheeesssh. I've been consuming their jams like oxygen and even more than sleep ('cuz, ya know. College). The best days to jam out to this lovely band: Rain. Particularly, cold rain. Thankfully, College Station/Bryan, Texas has been welcoming this weather with open arms!.... Well I'm welcoming it with open arms and even offering to help get Rainy Weather on her feet till she can find permanent residence in this town of ours (I don't think she will stay for long. She never does.); thus, I am taking full advantage of Rainy's stay and soaking up (no pun intended) all of the cold Smith-y weather there is.
Reasons why The Smiths are awesome:
1.) They have a prime time for when to be played (like all bands), but they still jam so well with summer heat waves.
2.) British.
3.) Their lyrics are witty and insightful.
4.) EXCELLENT writing music.
5.)
Need I say more?
6.) http://www.youtube.com/watch?v=knM7ow5vMPA Literary songs are my jam. "With love and hate and passions just like mine. They were born. They lived and then they died. Seems so unfair. I want to cry." Vividly addressing the fact we all die and we all experience the same emotions regardless mixed with the absurdity of it all; yet somehow, the song still remains upbeat and fun. HOW IS THIS POSSIBLE.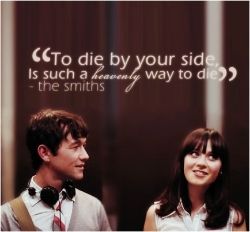 7.) Because if I got marry any famous movie star, it would be Joseph and obviously he wasn't acting in this movie. He OBVIOUSLY loves The Smiths. Totally not an excerpt from a movie. Totally real life. Totally.
8.) Disclaimer: I promised I loved The Smiths pre-500 Days of Summer.
9.) 80s music man.
10.) I don't need a tenth reason. D'Ann- if you don't believe me yet or haven't experienced all the things I am describing, you must complete the following or this message will self-destruct: a.) Make sure it is raining
a.1.) If it is not raining, perform rain dance until it does.
a.2.) Wait till next rainy day (but this is boring and might take a while).
b.) Listen to a full album of The Smiths (best hits to start off) either while reading/driving/baking/painting.
c.) This could also be considered option 2- make some hot chocolate, be pantless (because pants are stupid), listen to their best hits, close your eyes, and breathe.
This might be as good as peanut butter or pumpkin cider or kitties. Well… maybe kitties. Till next time, Dibbles.
Miss Madison Mae