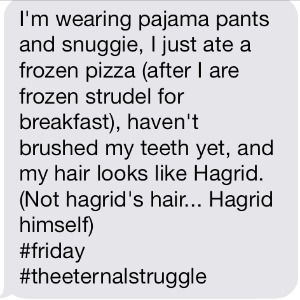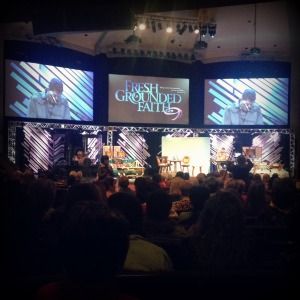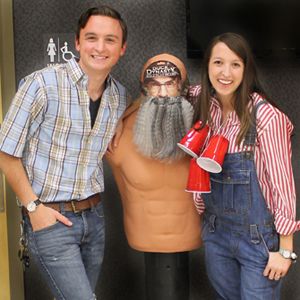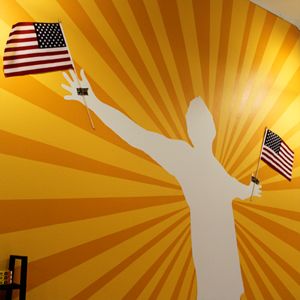 I've decided to blame all my recent procrastination and spaceyness on the whole "growing a human" thing. So apologies. I pinkie promise to try to be more consistent. The past few weeks have been chalk full of redneck ball attire, seeing friends, sleeping, eating boatloads of carbs, women's conferencing with the Ayers ladies and a lil road trip to Dallas (which somehow ended up absolutely no photos..).
-To start off this seven day snaps - we have the two sleeping babies in my life.
-Bopants likes to send me hilarious life text updates while he withers away on the couch and I slave away at work. Thanks for that.
-One of my lifelong friends, Wendy, sent me this star quality snapchat. I just about rolled out of my chair from laughter.
-Typical spouse conversation. Me: "I just can't even stand up. Can you make me some ants on a log?" Bopants: "*blank stare* Huh?" Me: "You know - celery with peanut butter and raisins on top!" Bopants: "I guess I can do that." Me: "Your offspring thanks you." Then these little celeries ended up on my plate.. he literally put them right on top and not in the boat part. This is reason 983409 our poor child is going to have therapy stories of our parental communication.
-Fresh Grounded Faith was a swell women's conference held by a couple of our local churches. You should check out
these
ladies
for some good laughs and great advice.id
-Elife hosted a stellar Redneck ball and let's just say there was a mechanical bull, biscuit tower, fried spam, dance-offs and lots of beards/guns/american flags. Have I mentioned how much I love this church!