Happy post long weekending! I'm realizing now that is a rather depressing greeting for those of you in the workforce. Apologies. Sidenote: the lighted area in the left top corner is a TREEHOUSE BAR. Yes folks, a bar in a treehouse. Have I mentioned how much being preggo and unable to consume booze stinks. Only a couple more weeks till this lil dude pops out and I can reunite with alcohol. We had a surprise visit from my dear old friend, Bethany! It was utterly pleasant. I've known Bethany since we were wee little babes and growing our friendship over the past few years has been splendid.
She reminds me of drinking a stout cup of coffee: warm to the soul but also very grounded with the ability to remind your senses of things forgotten or hidden away. We chatted for 7 hours straight about everything in life. Big. Small. Random. Surface. Deep. Bethano possesses that unique ability to make literally anyone and everyone feel comfortable. But this girl is a challenger! She asks hard questions and won't let you get by with blanket answers. One of the many reasons I treasure her friendship.
That would be my husband abandoning our obnoxious banter to go pensively look out into the rather nasty green lake. Typical life, this is the only photo I have of both of us from the weekend. Whoops. Story of my life taking stupid selfies and no actual quality photos.
We stumbled upon this outdoor food truckyard and located a country club with an insanely grand fireworks show that we stole views to as we drove back and forth down the main street to avoid parking and mosquitos. One of my first real hangouts with Bopants was at a 4th of July party 4 years ago. So funny to see how far we've come!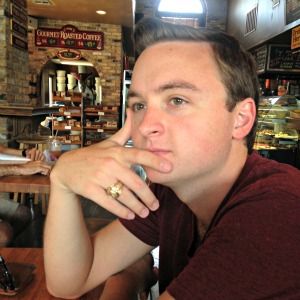 Saturday we popped down to Austin for some of our favoritest friend's stock the bar wedding shower. We managed to hit up some of our favorite local spots including
Mozarts Coffee Roasters
,
Magnolia Cafe
,
Summermoon Coffee
and a couple more. We met up with one of my most hilarious friends, Jordan and got to see Bo's sweet preggo sister and brother-in-law. Definitely a perfect little weekend getaway. Living more central to all these other towns and friends is truly the bee's knees.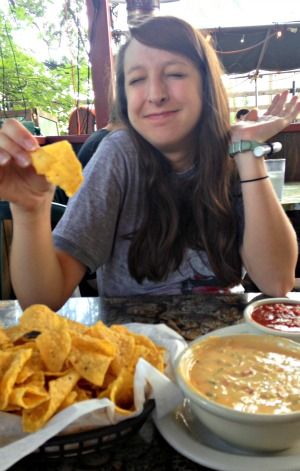 Few things in life can bring me joy like a good bowl of queso. I would love to blame pregnancy for the cravings, but I have to admit this one came the day I was born. Hope your 4th was festive and full of relaxation, good company and delicious eats :] Over and out.